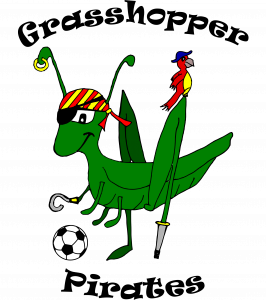 If you happen to have a soccer team called the Grasshopper Pirates, then this fanwear is for you. If you don't have a soccer team with that very specific and unusual name, then you might want to wear this stuff anyway, just to keep everyone guessing. You can get everything from shirts and hats to mugs and iPhone covers at the Cafepress site. There is no markup on these items.
Browse Products Here (no markups)
If you want to print logowear yourself, then here are a couple of images; one is reversed in case you want to use t-shirt transfers. Click for a larger version.
Special thanks to Dana for the excellent artwork!
Some Iron-on Tips
If you want the logo on the upper left part of the shirt, you can print them 6-up on a regular 8.5 x 11 sheet of iron-on transfer. On the back of the transfer paper, draw vertical lines in pencil directly through the centerline of the image. Then cut the logos out carefully, and place them on the shirts using these instructions: (Try the first one on to be sure you like where the logos are positioned.)
Fold the shirt directly in half vertically and iron a crease into it. This is the centerline of the shirt.
For adult large shirts, go down 7 inches from the point where the collar meets the shoulder, and over 3.75 inches from the centerline of the shirt. Place a small piece of masking tape to mark where the logo starts. (For other shirt sizes, see below.)
Go down the height of the logo and place another piece of tape 3.75 inches from the center line to mark the bottom.
Place the transfer paper so that the centerline drawn on the back lines up with the pieces of tape.
Remove the tape and iron-on.
For adult medium shirts, go down 6 inches and over 3.25. For adult small shirts, go down 5 inches and over 3.