You are currently browsing articles tagged education.
[sc:3dclub-intro]
Here's a quick update on some of the projects we've been working on this year:
We went to the 2014 USA Science and Engineering Festival up in Washington, DC, and we wanted to share it with our fellow school Maker Team members. Here's the video we produced to do that.
USA Science & Engineering Festival
Washington, DC
April 24-27, 2014
http://www.usasciencefestival.org/
SPECIAL THANKS to: Lockheed Martin, Snap-On, K'Nex, Lulzbot, U.S. Naval Academy, Natasha, NASA, and Printrbot.
MUSIC: "Saturdays Basement" by cdk, 2014 – Licensed under Creative Commons Attribution (3.0) http://ccmixter.org/files/cdk/45072
There are live links on the youtube page for the video for each of these segments:
0:09 Introduction
0:33 Scenes from the Festival
0:53 Lots of 3D Printers!
1:05 Lockheed Martin Large Robot Arm 3D Printer
1:52 Lockheed Martin F35 Lightening II Cockpit Simulator
2:23 Snap-on Racecar
2:33 Huge K'Nex Ferris Wheel
3:14 Lulzbot 3D Printing
3:50 U.S. Naval Academy Robotic Arm
4:52 Natasha the Maker
5:23 NASA Astronaut Alvin Drew
5:57 Brook at Printrbot
6:43 Summary with More Scenes from Exhibits
[sc:3dclub-intro]
Here's a video to the team from software developer and RepRap expert Alessandro Ranellucci, the creator of the extremely popular Slic3r software.
[sc:3dclub-intro]
Here's a video update of our latest progress in helping a group of grade school kids build a 3D printer from scratch. A lot went into this milestone, including research, sourcing parts, accounting, blogging, build scheduling, membership coordination, and more.
The kids are learning so much—not just STEM, but teamwork, budgeting, planning, human resources, and much more—with this real-world, hands-on, high-tech project. So far it's been an absolute joy to see them starting to come up with ideas and solve problems as if the technology were already as common and available as any of the other tools in their problem-solving tool kits.
As for the technology, they seem to just "get it" and aren't as intimidated by it as adults often seem to be. I think we're making great progress in "demystifying the box" and helping kids understand what goes on inside modern machines. From the start, these kids have wanted to pay it forward and help another school do the same thing, and I can't wait for them to have the chance to do that.
[sc:3dclub-intro]
We missed a meeting due to weather, and so I talked about some ideas to make up the time with one of the build team members. One idea that came out of that discussion was to involve more people in the build process, regardless of that team they're on. Another idea was to prepare bags of required parts so there wasn't a logjam at the parts table.
We turned to the whiteboard and broke the task of building the machine into a number of parts: Two sides, front, back, top, extruder, and X assembly. Each of these was going to be at small team of 2-3 kids so that each child would have an opportunity to contribute to the actual build. We came up with some silly names to identify the team — names like "Team Eyeball" and "Team Hamburger."
Using a number of different colors, we drew a diagram of how the major frame sections needed to be assembled. We used the diagrams to count out the parts and prepare the kits. In each back we included a copy of the diagram and a photo of what each kit represents on the completed reference machine. The adults were asked to resist the temptation to do any building themselves, and to let the kids explore the parts and make mistakes.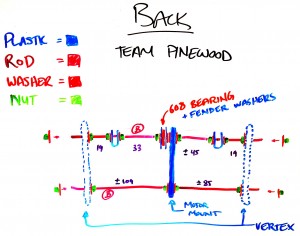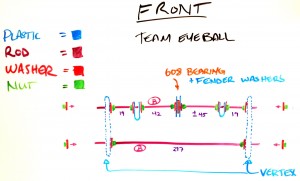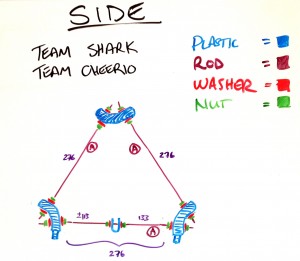 The threaded rods also needed to be cut — about a dozen cuts were required. Because the rods are critical path, we set up three stations using bar clamps and printed Bar Clamp Rod Adapters and let the kids get started on this right when they came into the room for the meeting. Each length was labeled "A," "B," or "C," and cutting locations were clearly marked with tape. (They had planned out the best fit the meeting prior and marked all the cuts, but I wanted to make it very clear.)
The measurements on the diagrams are made nut to nut, and there's typically at least one that has a +/- in front of it. I explained to the kids that this one was the less important measurement — that the others took priority, and that this one could vary. To prepare for all the measuring, I also provided each table with a number of these excellent paper rulers (narrow metric).
This was the first day that the kids could really see their teamwork coming together. There was a buzz of activity around the rod cutting stations as teams grokked the diagrams and began to build: "We need another B rod!" and "All the A rods have been distributed!"
[sc:3dclub-intro]
To help prepare the kids for the next meeting, I sent this email to all of the club members. The robots I'm referring to are a handful of little Maker Faire Robots (http://www.thingiverse.com/thing:40212) that I printed to give away at the previous meeting.
Hello fellow makers! (This email is for the kids, but advisers can read it, too)

Our next meeting is this Friday, and we should be able to make more progress on the build. Based on the responses I saw from [build team member] email last week, it looks like we'll have a couple more hacksaws to work with, and I'll try to bring some more clamps — and those little printed robots I forgot to bring last time. (I'm printing more of them as we speak, and I've attached a picture!

I've seen emails from several of you regarding things like hacksaws, meeting frequency, and parts that we still need to locate, and I really appreciate the hard work that's been going on between our meetings. Without this effort, our progress will slow down considerably, so thank you!

[Build team member] on the build team had the idea of increasing the frequency of our meetings to weekly, and although I think what would definitely help us move along faster, I think at least for the time being I'd like to keep meeting every other week. My hope is that we'll be able to get more legwork done between meetings so that we can focus more on the build during the meetings. There's always an option for smaller groups to meet in the off week, too.

Some of you may have met [hackerspace member] last time. He's a member of the local maker space (or hackerspace) and was helping out last time with the makers. He and I were talking about some neat project ideas we can work on in the future. Thank you, [hackerspace member], for your time!

I was very happy to send out our first thank-you card that accounting team put together and had everyone sign. It also looks like the BOM team has been hard at work finding a few remaining parts that we need.

I believe the blog team is working on a website update, but I think they would consider posting information from other team members as well. For example, I plan to write a couple of paragraphs about the promotional video you've all seen and ask them to post it. So if you have any ideas, please feel free to share them!

I was very happy to see the membership team working on the sign-ins at the last meeting. They may need a little extra help in the coming weeks, so if you're interested in membership-related duties, please feel free to contact them to offer your support.

I look forward to seeing you again this Friday! Remember to bring your science notebooks or an extra hacksaw if you have them or are able to!

-Alex

P.S. Remember the email addresses you can use to contact your team or other teams: [email list addresses]
[sc:3dclub-intro]
Here's another email from the build team explaining the schedule slip. It's funny to see kids use words like "aggressive" used to describe the schedule, but there's a good reason for it: I used that word and explained it to the build team members after the last meeting when we realized that they weren't going to finish what they hoped to finish.
This email also illustrates another mistake I allowed them to make — the one about rescheduling the Z axis before the X. Soon I plan to help them realize that they might be able to use the resources available to do more than one thing at a time.
Hi everyone,

Our last meeting seemed great to me, and I'm looking forward to the next meeting. I have three things I want to let you know.

The build schedule changed. The next thing we are going to build is the Z axis, not the X. We can't build the X if we don't have the Z to put it on! This means that the BOM team has a little more time to get the parts for the X axis, and we need the Z axis parts a lot sooner. Nothing will really affect the other teams.

I wanted to let you all know that our schedule has slid. The cutting and all that stuff took longer than I thought so we are going to keep building the frame next meeting. I think the reason the schedule slid in the first place was that we need more hack saws and that my schedule was too aggressive.

I have a few suggestions to help this problem. We can meet every Friday instead of every other Friday. We would have to get permission to do this. What do you think about it?

Another way to help solve this problem is we could get more hack saws. Does anybody have a hack saw they would be willing to let us borrow? We could use another one. We could also buy another hack saw if we have enough money.

Does anybody have any other suggestions? If so you can just email me.
[sc:3dclub-intro]
This is one of several emails that I sent out to team advisers in order to clear up concerns about expectations and direction.
Hi [accounting team advisers],

As you know, my emails are usually directed toward the kids, but this one is for you. With the start of the new quarter upon us, I wanted to share with you a bit more of my vision for the accounting team to get your input and hopefully help make their goals and purpose a little more cohesive.

My goal for the accounting team has been twofold: First I wanted to give the kids with number sense or a particular interest in math a very meaningful role in the club — one that they could learn from, take responsibility for, and feel proud of. Second, I wanted give all the other club members a sense of finance and budgeting by integrating the accounting role into what they're doing.

To meet this first goal, my hope has been that the kids on the accounting team (with guidance form the adult advisers) develop a method of keeping track of the overall budget, and from the last meeting, it looked like they were on their way to accomplishing that. They've been asked to keep track of a few things so far, but moving forward they'll be getting even more data to manage. Hopefully this will help them hone their system. I don't think the work they do has to necessarily be slick and professional (it might as well be managed on paper in their notebooks) and I think little mistakes along the way are probably a good thing, though we should try to guide them away from making big ones.

To meet the second goal, I've been emphasizing budget and cost when working with the other teams, and asking them to interact with the accounting team where appropriate. For example, I've been telling the maker team, "If we can find something we can use, we won't have to pay for it." And, at the last meeting, I asked the BOM team to submit their list of hardware parts to accounting for approval. I'd also like the accounting team to ask everyone to help raise funds by asking around (not from their parents, but maybe their parents' offices, or in the neighborhood, or at special events).

These are the types of questions and requests I see them getting moving forward:

"How much money do we have available?" This is basically the uncommitted funds available, and can be managed just like a checkbook ledger.
"Can we afford (or will you approve) [some specific] expense?" This is where their rough budget categories come into play. As they're getting set up and familiar with their responsibilities, I'm sure this will be pretty chaotic and feel pretty blind, but right now I'm doing all the actual buying, and I'm not going to let them get burned. Eventually I'd like them to be able to confidently answer these questions, though — including saying "no" when appropriate. For example, if approving a hardware expense would put us over the hardware budget, then the answer should be "no" until they've addressed the budget problem. They can address a budget problem by shifting funds from another budget category, by raising funds and increasing the budget, or by encouraging the member making the request to find a alternative or ask for a discount.
"Here's a donation for you to track." I hope we'll get more discounts or donations, and we'll need to manage those appropriately. Each person or company that makes a donation should receive a handmade thank-you card in return, and I'd like them to be creative with it. If they include the amount donated, it can probably even be used as a tax receipt.
"Please reimburse me." For this one, they'll need request and track an expense reimbursement from the school. Of course, it needs to be an expected expense!

I hope this helps out going forward. As always, please don't hesitate to contact me if you have any questions or concerns!
[sc:3dclub-intro]
So far I've been doing all of the purchasing for the club — partly because I don't want the kids to be overwhelmed, and I don't want to burden the kids' parents with the extra expenses that won't be reimbursable until after the accounting team learns about reimbursements. This also allows me to protect the kids from expensive mistakes because I'm able to order exactly what's needed even if the projects that the BOM team sources aren't quite right.
Here's an email I send out to the accounting team that lists what I've purchased so far. They have most of it already on their general ledger, but this puts most everything in one place for them to double-check.
Hi there, accountants! (Parents, this one is for the kids again.)

As I mentioned in my Accounting Team Update email earlier this week, I wanted to get you a list of the things we've acquired for the club so far, along with their costs and categories. I believe you've already recorded some of these expenses, and I know others will be new. I'll wait until we're a little further along with the build before I submit a request for reimbursement.


J-head hot end (2, with extras): Donated by Reifsnyder Precision Work! ($110 value)
Hardware (7 three-ft threaded rods): $1 each + 7% tax, no shipping, from Lowes
Hardware (smooth rod and most screws, washers, and nuts): $45.98 + $3.42 shipping, from McMaster-Carr
Electronics (circuit board and components): $33.25, free shipping, from ebay
Electronics (4 stepper motor drivers): $9.95 each + $2.13 shipping (total), from Pololu electronics
Stepper Motors (5): $8.50 each, no shipping, from ebay
Frame vertex with feet (4): printed by me, so no real cost here
Frame vertex without feet (2): printed by me, so no cost here, either
Bar clamp (8): printed by me — free!

See you on Friday! (Remember to have a brief team update prepared — and don't worry if you don't have time to include all this before the meeting.)
[sc:3dclub-intro]
In an effort to trim down the team to only the most interested and motivated students and parents, I sent out this email to only the parents.
With the new quarter starting up, this is probably a good time to talk to your kids about their involvement in the 3D printer club. As the build actually starts, we're going to be relying on each team member more and more to take responsibility for his or her role and the work that goes along with it — not only during the scheduled club meeting times, but outside of those times as well. We won't be able to complete this project without this concerted effort (there are simply not enough scheduled meeting hours left), but if the kids follow through between meetings and come prepared, then we should still be on track.

So please take a moment and talk to your kids about the club. Is this something they're still committed to seeing through? Are they still willing to work hard toward a long-term goal? Are they willing to come prepared for the club meetings, work hard at them, and follow up between them?

I also want to express my sincere gratitude to the parent and teacher volunteers who are helping to see this project through. The talent and dedication they bring to the table is incredibly valuable — directing a project of this scope with a team this size would be impossible without them. Thank you!

Finally, I want tell you a bit about some of the hard and dedicated work I've seen from the kids so far. After every meeting, I've had a new story to tell about a student stepping up to a challenge, coming up with a creative idea, or discovering something new. I've received emails from them about things like club branding and sourcing parts. I've seen kids feverishly running numbers and tweaking budgets, interviewing teammates, taking pictures, researching parts, taking notes, organizing lists, asking questions, proposing solutions, coming up with creative new ideas, and a whole lot more. The enthusiasm and curiosity I've seen from them has been positively inspiring.

See you Friday!