Here are 63 flashcards designed to help early readers learn groups of rhyming words. Each rhyme (often called rimes or phonograms) is shown on a different card, with a number of example words below. Work with the child to learn the rhyming sound, then have him or her practice on the words below.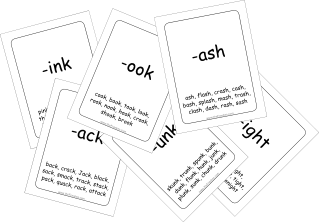 Download the PDF file from the link below. Print out the flashcards onto seven 8.5″ x 11″ pages, then cut them out on the light gray dotted lines. You can laminate them either before or after you cut them out. There are nine cards per page. The final size is about 3 2/3″ (93mm) tall by 2 7/8″ (72mm) wide.
Download here: Rhyme Flashcards (PDF: 99k)
The cards are printed using all lower case (with the exception of some proper nouns) in a font that is easy for children to read.
Enjoy! Comments and suggestions welcome!