You are currently browsing articles tagged kids.
[sc:3dclub-intro]
Here's a quick update on some of the projects we've been working on this year:
[sc:3dclub-intro]
Here's a video update of our latest progress in helping a group of grade school kids build a 3D printer from scratch. A lot went into this milestone, including research, sourcing parts, accounting, blogging, build scheduling, membership coordination, and more.
The kids are learning so much—not just STEM, but teamwork, budgeting, planning, human resources, and much more—with this real-world, hands-on, high-tech project. So far it's been an absolute joy to see them starting to come up with ideas and solve problems as if the technology were already as common and available as any of the other tools in their problem-solving tool kits.
As for the technology, they seem to just "get it" and aren't as intimidated by it as adults often seem to be. I think we're making great progress in "demystifying the box" and helping kids understand what goes on inside modern machines. From the start, these kids have wanted to pay it forward and help another school do the same thing, and I can't wait for them to have the chance to do that.
[sc:3dclub-intro]
This email went out to all team members four days after the second all-team meeting. Their science notebooks had been collected for the weekend after the last meeting, but were returned on Monday.
Greetings fellow Makers!

School is out now for Thanksgiving break, but one of the benefits of an after school club is that it's—um—after school. So I'm going to keep sending you stuff anyway!

Several of you have received your science notebooks back, and for each of you that has one, I wanted to remind you to be careful with it and try not to lose it. You will need to bring it with you to our meetings, and you'll need it for the notes you take and things you learn between meetings.

I have a notebook, too, and I've also been busy taking notes. One of the first things that came up as Jacob and I were working more on listing parts was that we needed a way to identify all the hardware we were finding. I turned the page and drew a couple pictures of common hardware that we'll be using, along with some information about them.

Because every single one of you is going to need to be familiar with these parts as well, I thought I'd share that page from my science notebook with you. I've attached it to this email. (For those of you who are keeping a science notebook, you can see pictures of how I set mine up here: http://www.thefrankes.com/wp/?p=2779.)

I hope you all have a fantastic Thanksgiving break with your families and friends!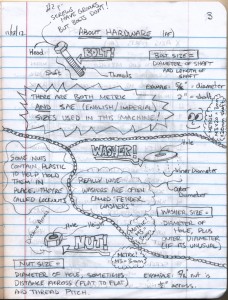 [sc:3dclub-intro]
Keeping a science notebook can be a lot of fun. It's not very difficult to do, and if it's done well, it's something you will be proud of for years to come. (The first science notebook I saw when I was a kid was one that my father wrote when he was a kid!) Because this is new to a lot of kids in the club this year, I thought I'd work up an example of how I might do it if I were on the build team. I'll post some pages from that here, and hopefully also (eventually) some creative pages from member books.
I like to keep my notes fun, and I like to fill empty space with doodles or squiggles—not unlike Vi Hart describes—but I also like to keep the information neat, consistent, and organized. For this book, I sat down with my son and started to draw the Table of Contents. (I think he was a little surprised by how I styled the words.) We worked together to identify parts of the machine, and he was eager to take over after only a few lines. By the time we got to listing some hardware, I started a new page with some drawings and details. When I went back to list the drawings in the Table of Contents, we suggested that I continue numbering them, counting down from zero. I think he enjoyed the idea that the notebook could have some personality.
[sc:3dclub-intro]
With the 3D printer club now in full swing, we've already discovered that we need some supplies. I'll describe how that process can work, using the very real example of what came up yesterday. This type of process can happen at any time via email–you don't need to wait until a club meeting to make any part of this happen.
While the maker team was working on finding parts, they realized that they really should have safety glasses to protect their eyes from things like springs that go flying off from parts that are being disassembled. Because safety is a real concern, this makes a lot of sense to me, and I think it's important that we pick some up for next time.
To get the process rolling, the team member who identified the need should send an email to the BOM team leaders, explaining what parts or supplies are needed, why, and when. The email can look something like this:
We need 4-6 pairs of safety glasses to protect our eyes from flying debris as we disassemble machines in search of parts. We need these before the next meeting, if possible. Thank you!
The BOM team can then contact the build team, if necessary, to make sure the request is valid and reasonable. For example, the Build Team might already have a couple pairs of safety glasses, and as a result might be able to change the request to 2-4 pairs instead.
Once the request is validated, the BOM team can go to work figuring out where to get the parts, how much they cost, and then submit the request to accounting team. That request might look something like this:
We have determined that we need 4 pairs or safety glasses. They are available locally from Harbor Freight tools for $1 each for a total of $4 plus tax. Is this approved?
The accounting team can then add the request to the ledger, and let the BOM team know that the request is approved. The BOM team can then find someone to purchase the part. Ideally, they combine this request with others for the same store. They might accomplish this by sending an email to the makers:
If you are near Harbor Freight and can pick up some supplies, please let me know. We need 4 pairs of safety glasses (item 99762), and electrical tape (item 6047). The approved total is $9 plus tax and will be reimbursed when receipts are submitted.
The BOM team should be careful to be sure that the requested items are only purchased once. Once purchased, the parts or supplies can be delivered to those who requested it, and the receipts can be submitted to the accounting team for reimbursement.
It will be a lot easier to do this once the membership team distributes the team lists with the contact information. if you receive an email like this from a team member, please act on it promptly, because you might be holding up someone else's work!
[sc:3dclub-intro]
These guidelines were handed out with blank Science Notebooks to both the primary and secondary leads of each team (except for the maker team). The kids got right to work on setting them up properly.
Here are some guidelines for setting up your science notebook. Take a lot of notes as you work through the project, both during and outside of meetings. You can add to it at any time with any ideas you have or things you learn about or discover — you don't need to wait for meetings or group work. Science notebooks are important because they will help you track your work and serve as a future resource for you and others. Plus you will have a detailed record of your discoveries and the science behind them.

On top of the very first page, write "Table of Contents." This will be a running list of the entire contents of your notebook, and will include the date, the title, and the page number of what's included in it.

On the top of the left column (to the left of the leftmost line), write "Date."
Write "Title" at the top of the middle column.
Write "Page" at the top of the right-hand column (to the right of the rightmost line).

You can fit about 15-20 entries on each page, so leave six pages blank (three sheets), and write the number "1" on the upper right-hand corner of the fourth sheet. This is the page number.
One the top of Page 1 (the right-hand side of the fourth sheet) write the date followed by a title, and your initials. Because we're starting this with a meeting, you might write "16 Nov. 2012 – Team Meeting #2 (AF)." Underline the title to indicate that it should be found in the Table of Contents. Next, go back to the table of contents, and enter the date, title, and page number on the first line, like so:

  Date    Title                               Page
11/16/12  Team Meeting #2 (AF)                  1

Write on (and number) the front and the back of every page, and don't skip any pages unless you're making room for lists, and try not to skip a lot of lines. It's okay to have more than one new topic (and Table of Contents entry) on a single page in the notebook.
You can write notes and add entries at any time.
If you make a mistake or correction, cross it out with a single line so that the original is still readable. Sometimes it's very handy to see what someone wrote before it was corrected, especially if it's a change in some data.
For our club, the Science Notebooks stay with the team leaders, even if those leaders change from time to time.
[sc:3dclub-intro]
3D printers are an exciting new technology just starting to gain a foothold in schools. Once built, a printer facilitates many creative endeavors and links to math, science, art, and more. Building a 3D printer is a great project for a school club or a project-based classroom because students have to integrate STEM skills and work as a team. Students who build a printer from scratch (as opposed to just buying a kit or a completed machine) will have a detailed understand how it works and will be able to properly maintain and operate it.
Here we are developing and making available a 3D printer club curriculum that any school can use. We're developing these lesson plans as they are tested in an elementary school club, with members in grades 2-5. This page will be updates with the latest lesson plans and resources as they are developed.
[sc:3dclub-intro]
This is the email (redacted) that went out to the complete list of club members about six days after the first meeting. (It was delayed primarily because I was awaiting comments from some of the advisers.) There was a technical glitch at that meeting that prevented a live demonstration, but we used that as an opportunity to teach a bit about how the printer operates. New terms or concepts were highlighted in bold type.
Greetings, parents and team members! (Parents, please ask the team members to read this email!)

I think we had a great first meeting. I know it was a lot to cover, and I'm sorry that I couldn't do a live demonstration, but solving technical problems are all part of the process! I appreciated all of the great questions, and the interest you all showed. I'm confident that we can pull this off as a team if we stay focused and work hard.

A Couple of Build Options
There are two different 3D printer designs that I think we should decide between. The one I brought in is called a Prusa Mendel. It was designed in 2010 by Josef Prusa, who lives in the Czech Republic. It has a triangular frame. Please read a little about this design here http://reprap.org/wiki/Prusa_Mendel_(iteration_1) and here http://reprap.org/wiki/Prusa_Mendel.

Another design, called the Printrbot, was developed last year by a man named Brook Drumm in California. Its frame looks more like an upside down T than a triangle. Several people (including Josef Prusa) have improved on this design in the meantime. Please read a little more about this design here http://reprap.org/wiki/Mendel90

It's not critical that you understand everything on those pages — just take a look at the pictures and review the text (particularly the Advantages and Disadvantages sections of the Mendel90 link, because these sections compare the two different models).

At our next meeting, I'd like you to share your thoughts about each design, so that we can decide which one to build as a team. Please come prepared!

About The Technical Problem
As you saw both in the video and at our first meeting, the printer has three axes of motion: X (the print head moves side to side), Y (the table moves front and back), and Z (the print head moves up and down). The motors that control the motion are not very smart — they just move in the direction the computer tells them to, and they'll just keep going unless there's something that tells them to stop. Some people accidentally damage their machines by telling the motors to move too far in one direction or another.

When a print starts, the machine moves the print nozzle to a "home" location. This is called "homing." It knows where the home location is because there is a physical switch on each axis called an end stop. When I tell my machine to "home," it moves the table forward until the Y axis end stop switch is hit, it moves the print head to the left until the X axis end stop switch is hit, and it moves the whole X axis (called the X Carriage) down until the Z axis end stop switch is hit.

The problem I had at the meeting turned out to be this: One of the wires leading to the Z end stop switch had worked loose on the drive over to the school. If I had told the printer to "home" in order to start a print, it would have moved the X carriage down, crashing into (and through) the glass table that the printer squirts plastic onto, because it would not have known when to stop!
[sc:3dclub-intro]
Today Jacob stood up in front of a big group of adults and presented our collective work on getting a 3D Printer Club up and running at his elementary school. He showed the video we worked on, and although we had some technical difficulties with sound, it was very well received. Many of the "Easter egg" scenes got some big laughs, and one of the members even recognized the math at the end.
[sc:3dclub-intro]
Today we met with the director of the school and our teach sponsor about our 3D Printer Club plan, and the meeting went very well. We brought samples of 3D printed materials, and we talked for about an hour about the technology, the possibilities it opens up, and the educational opportunities it presents. We also talked a bit about what a successful club might look like — perhaps building newer 3D printer models, or expanding to other machines like eggbots (a drawing robot) and robots, or even to other general "maker" interests like fixing lamps, and just taking things apart to see how they work.
The director agreed to supply some seed funding to help get the club off the ground, and seemed very interested in the "pay it forward" goal of the club.